OX Forge is the trademark of Charles F. Ochs III. Charles has been making custom knives since 1973 and has been a full time maker since 1986. In 1989 he was named a Master Bladesmith by the American Bladesmith Society, and became a member of the Knifemakers Guild in 1988.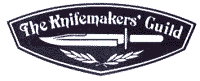 The OX Forge Trademark is derived from the Ochs surname, which is of German origin, and is classically pronounced "OX". The OX Forge trademark is known by knife collectors worldwide as the mark of a finely crafted forged blade, exhibiting superior quality and performance. Customers, from all over the world, own and use OX Forge knives.
Charles' wife, Belle Ochs, is a gifted scrimshaw artist, whose work adorns some of the most unique knives bearing the OX Forge trademark.
In addition, Belle does a wide variety of artwork in other media such as oil and watercolor, with an emphasis on custom dyed silk creations such as scarves, flags and church banners.
Access Belle's web site at: www.silkhand.com